For many hunters, the experience of an elk hunt can be described in a single word — thrilling. It's why hunters from all over the country make the trip to Utah year after year, seeking the challenge of taking one of the most difficult big game animals. Elk hunting is incredibly challenging, as these big game animals can be notoriously unattainable. Whether you're an experienced hunter or planning your first elk hunt, here are a few essential hunting tips to set yourself up for a successful hunt.
Considered one of the best elk hunting spots in the U.S., Utah is home to Rocky Mountain elk, which can be found throughout the state's mountainous terrain. In 2021, elk hunting season runs late August to the end of November, following a few modifications from the Utah Wildlife Board.
Whether you're an experienced hunter or planning your first hunt, here are a few elk hunting tips for making the most of this season.  
How Much Do Guided Hunting Trips Cost
What Makes Elk So Elusive?


Utah is among the top seven western states for total elk harvested annually. While elk are well established at about 81,000 animals statewide, they can be notoriously unattainable. In the latest Utah Big Game Annual Report, fewer than 7,000 bull elk were taken in 2019, with nearly 60,000 hunters afield.
During the hotter summer months, elk herds are typically found at higher elevations. They descend through the fall and spend colder winter months at mid to low elevation. Elk can be difficult to hunt primarily because of their preference for the backcountry. The rugged terrain is challenging to navigate successfully, making it difficult for hunters to access.
Elk Hunting Tips: 5 Things You Need to Know


Elk hunting is incredibly challenging, so it's critical to ensure proper planning. Here are five essential hunting tips to set yourself up for a successful hunt.
1. Know where to look for elk
Backcountry hunting can be both physically and mentally exhausting. Whether you're hunting solo or with a guide, you should do your best to understand the terrain and location before you begin.

Some of the largest elk herds roam the Wasatch Mountains. Begin your planning by mapping your route and making note of the different topographical conditions you'll encounter. Then, be sure you're in good physical shape to handle the type of activity required. Also, consider joining an online forum to get a general idea of additional locations to explore or local feedback from area hunters.
2. Know which caliber to use for elk hunting
Simply put, killing a bull cleanly takes a good cartridge. The 7mm Remington Magnum and the .300 Winchester Magnum are two of the most popular choices among elk hunters. Given the size and the fact that shots on elk may often be taken from a distance, it's important to be sure your caliber has both authority and distance capability. 
3. Know when to go elk hunting
Plan for an early start to your hunt, as elk are most active during the early morning and early evening. Much of their activity surrounds their feeding habits. Elk can often be found grazing in open meadows, but are also closely tied to aspen and cottonwood as a source for both forage and cover. That said, it's important to note that elk can sometimes be nocturnal. If disturbed, elk will often leave the cover of the dark timbers to feed at night before returning early in the morning. 
Elk hunting season in Utah also falls during the rut, which means elk are extremely vocal. During the breeding season in early September, bulls will bugle to gather cows into harems. This is an exciting time to hunt, as it gives hunters an opportunity to call in an elk. When preparing for a call, give ample consideration to your positioning, especially if you're in a heavily wooded area as any slight movement could easily spook an elk. 
4. Know the land where you go elk hunting
If you're planning on venturing out to the backcountry or even to an unfamiliar location, it's important to always have a reliable method for both orientation and communication. While a cell phone may seem like an easy choice, it's hardly the best device to keep on hand when in remote, mountainous locations. 
Prioritize devices that aren't battery-powered like a simple compass or a satellite phone. Most sat phones have both GPS and communications capabilities, meaning you can send your location, text messages, or even emergency signals if you're beyond cell phone range. Should you get hurt or have an accident, these devices can be lifesaving in an emergency situation.  
5. Know how the wind affects your scent when elk hunting
Appropriate clothing and footwear are of course essential to any hunt, but beyond your comfort, it's important to consider your scent. As you move, you're bound to sweat and your perspiration-soaked clothes can be a major deterrent to elk. Consider packing a few extra lightweight layers to swap out or simply air out your clothing as you pause for breaks. 
Additionally, be sure to check which way the wind is blowing. By understanding how the wind affects your scent, you'll have a better idea of how to approach and orient yourself in positioning. For example, if the wind is in your face and then starts blowing from your back, your scent will now blow where you intend to bring the elk within range. 
Elk Hunting in Utah at West Canyon Ranch
Even if you've properly planned and prepared, the chances of successfully taking an elk are often low. Additionally, obtaining a permit in Utah can be a challenge for many hunters.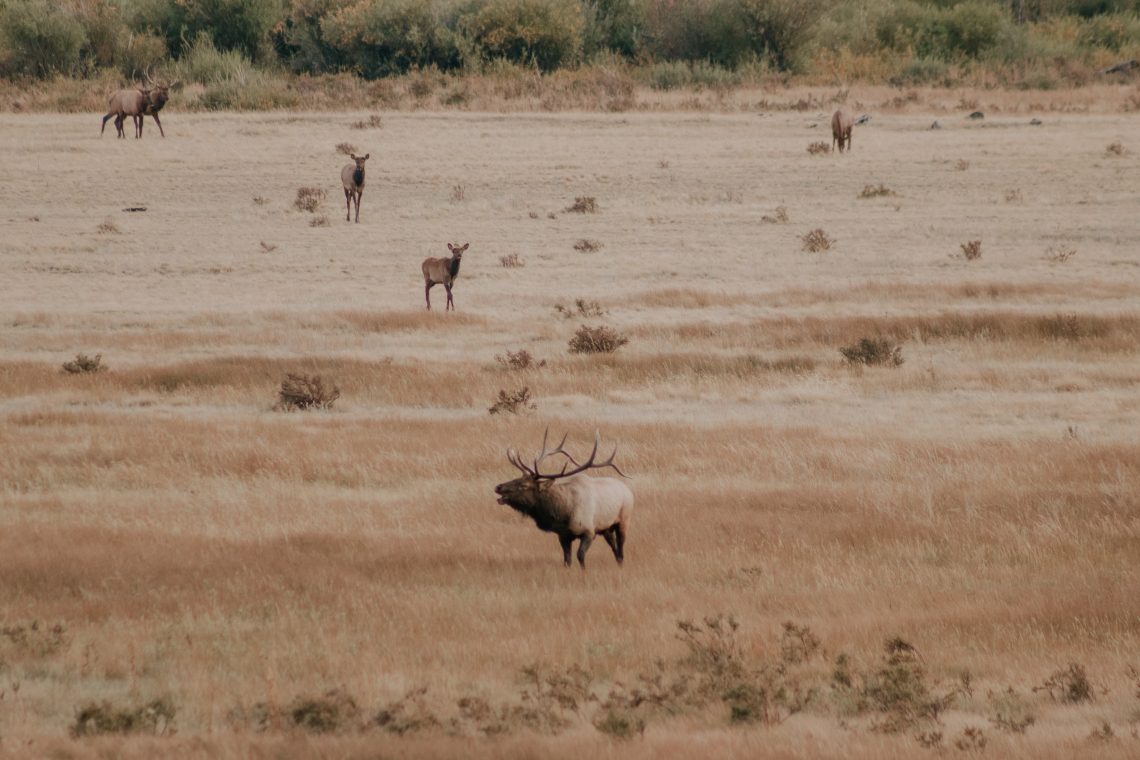 West Canyon Ranch has one of the leading guaranteed trophy elk hunts available. Experienced guides ensure you will have the hunting experience of a lifetime on our 4,000-acre property in the Wasatch Mountains.
As a high fence Utah ranch, West Canyon takes all the hassle out of hunting. We take care of permits, tags, and guarantee a 100% shot opportunity for all of our guests. Learn more about our guided Utah elk hunts.