A Private Hunting
Ranch in Utah
The History of
West Canyon Ranch
In its early days, the ranch was run by the Peterson family, who used the land to raise livestock during the early 1900s
The Peterson family were experts in raising sheep and cattle. This family's stewardship and forward-thinking allowed the ranch to be cared for and well-preserved over the years, resulting in a beautiful piece of privately-owned property reaching across thousands of acres.
Today, the ranch is operated by the Summers family. While raising cattle remains part of the Ranch's day-to-day operations, elk, bison, and turkey are now West Canyon's focus. Blessed with an abundance of natural resources and tremendous views, our primary purpose is to preserve the Ranch for future generations.
What makes West Canyon Ranch
one of the best

private hunting ranches in America?
Ours is a high-fence private hunting ranch that stretches across 4,000 acres of preserved land and wildlife
Massive trophy elk, bison, and turkeys roam freely, and our guests journey through rolling hills and valleys, natural streams, and greenery of all kinds. Our professional hunting guides are experienced and expertly trained to assist hunters of all skill levels and preferences. To top it all off, our hunting ranch is fully equipped with first-class amenities to keep you comfortable during your stay.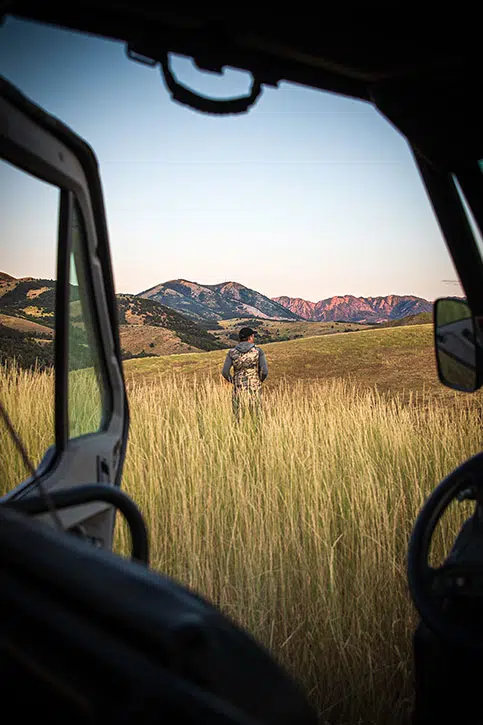 Overlooking breathtaking meadows, our lodge provides a comfortable and intimate setting.
Guided Hunts at

West Canyon Ranch
Whether you're a beginner or a novice, West Canyon Ranch has just the right guided hunt for you. Browse our selection of guaranteed trophy hunts and start planning your adventure today.
Access our
luxury facilities and accommodations
After a full day of excitement and adventure, return to your West Canyon log cabin and treat yourself to our host of luxury accommodations and amenities, including soaking tubs, chef-prepared meals, and cozy lodging.
Hunters from all over the world flock to our private hunting ranch to experience thrilling, one-of-a-kind experiences. Here's what some of them have to say about their adventure at West Canyon Ranch.
View More Reviews
"I spent a few days last fall hunting elk with some close friends at West Canyon Ranch. From start to finish the service, food, lodging, and everything in between could not have been better. It was amazing having the whole place to ourselves allowing us to make it a hunt of a lifetime. I would recommend a hunt with West Canyon to anyone!

Ryan W.
A private hunting Ranch

like no other
West Canyon Ranch stands apart with our dedication to preservation and our passion for creating once-in-a-lifetime hunting experiences. Plan your adventure today, or contact us directly for more information.
Plan Your Adventure